General
FAZUA RIDE 50 Firmware
The optimal interplay between your own performance and the support provided by the RIDE 50 EVATION drive system is the key to sophisticated riding behavior. This is exactly where we started with the firmware. Biomechanical analysis and countless lines of codes have led to improvements in many areas.
Cadence Range
We have significantly improved the cadence range: This gives you noticeably more motor support even with higher cadence. No matter if you ride with 60 rpm on a steep uphill on a mountain bike or with 100 rpm on a road bike, you will always get even assistance.
Torque max: FAZUA RIDE 50 EVATION - 55 Nm | FAZUA RIDE 50 TRAIL/STREET 58 Nm
Power max.: FAZUA EVATION - 300 W (mechanical) | FAZUA RIDE 50 TRAIL/STREET - 350 W (mechanical)
Cadence spectrum (opt. efficiency / power): 55-125 crank turns per minute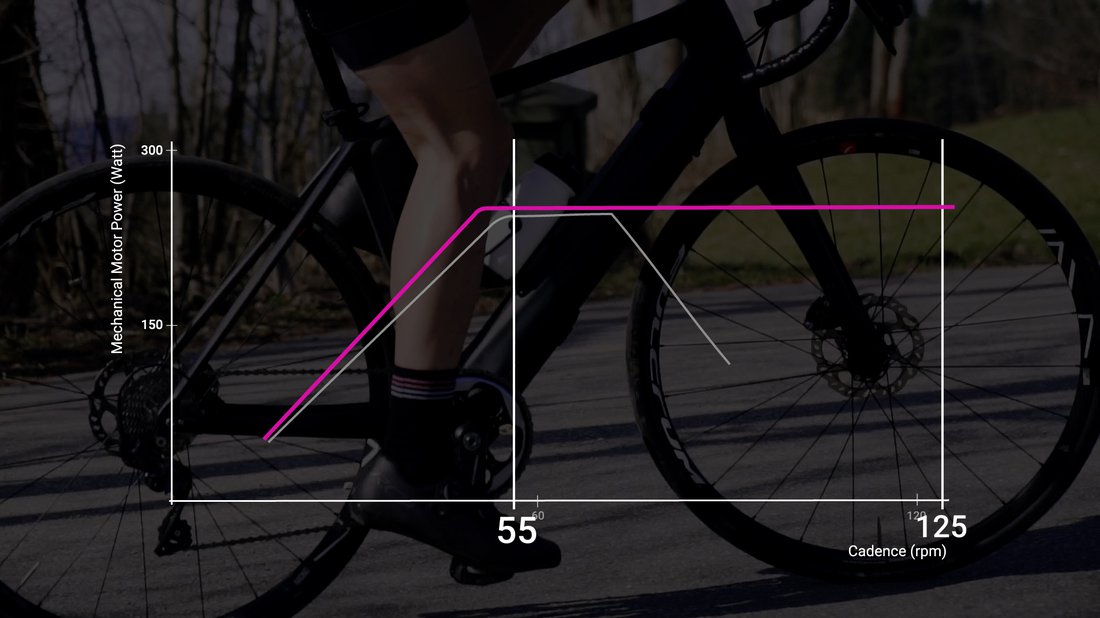 Motor Start Response and Ramp-Up
Step on the pedal and the motor starts! Direct reaction and a sensitive start. Depending on the mode, you get a gentle boost or a powerful starting aid to get up to speed faster and easier.
Breeze: mellow and gentle acceleration.
River: stronger but still natural acceleration.
Rocket: strong and noticeable acceleration.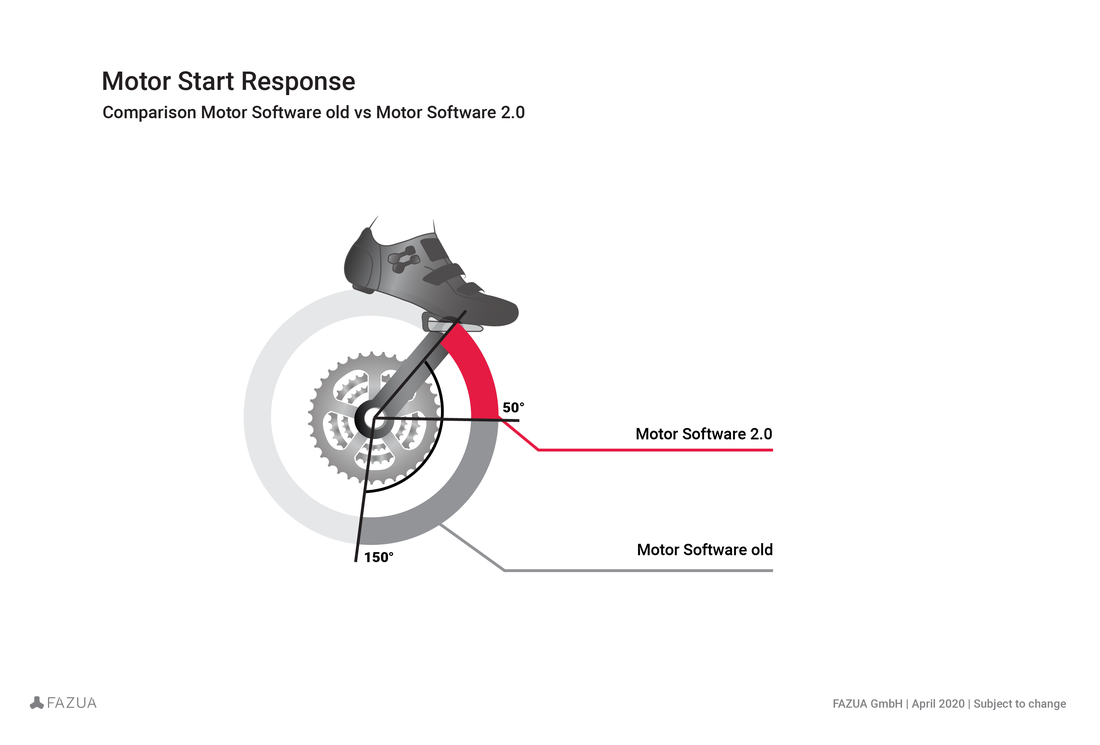 Support Mode Characteristics
The Support Relation, the relationship between rider power and motorized assistance, is now even more differentiated between the three support modes, meaning that you have the perfect mode for a wide range of terrain and riding situations.
Breeze: Gentle, constant and 100 watts* strong tailwind even at low rider power.
River: Progressive and very sporty mode, for a smooth riding experience! The strength of the support precisely follows your foot and your own power. Give a lot - and get a lot from the motor (max. 210 W*).
Rocket: Aggressive assistance that helps you to tackle the steepest sections even with moderate driver power (max. 250 W*).
*default settings
Range
The FAZUA RIDE 50 EVATION Firmware stands for improved driving behavior with more constant engine performance and increased efficiency. The range of your battery depends on many factors and cannot be defined in general values. The parameters of your own riding behavior, tire selection, external environmental influences, weight, speed and selected support mode all have an impact on the range.
Here is an example of the River mode:
quick road bike circuit with 1400 vertical meters / 75 km
varied mountain bike tour with 600 vertical meters / 50 km
In Breeze mode you could extend your road bike lap to 120 km. In Rocket mode you could, for example, cover up to 850 vertical meters or a bike lap of up to 30 km.
Download the latest firmware here.